A fifth generation resident of Hernando County, Thomas S. Hogan, Jr. graduated from the University of Florida with a B.A. in political science in 1976 and Cumberland School of Law where he received a Juris Doctorate degree in 1981.
Mr. Hogan was admitted to the Florida Bar in 1982. He was admitted to the Alabama Bar in 1981; the U.S. District Court for the Middle District of Florida in 1982; the U.S. Supreme Court in 1982 and the Military Court of Appeals in 1982.
Thomas Hogan's attorney experience includes: Assistant State Attorney of the Sixth Judicial Circuit, 1981-1984; Executive Assistant State Attorney of  the Fifth Judicial Circuit, 1985-1989; Board of Trustees of Pasco-Hernando Community College, 1989-1993 (Chair 1993); Judicial Nominating Commission of the Fifth Judicial Circuit, 1990-1994, 1999-2001, 2002-2006; He was nominated by the Florida Congressional Delegation to be U.S. Attorney in 1988. Mr. Hogan has been awarded the Victim's Rights Award; was named an Honorary Lieutenant Colonel Aide de Camp in 1980; and has received numerous certificates of appreciation for commendable service during his career.
Mr. Hogan founded The Hogan Law Firm in 1989.  Thomas Hogan's law office has become the largest full service law firm in Hernando County, with offices in Spring Hill and Brooksville. He currently practices law in the areas of General Business Law, Civil Litigation, and Government Law.  He represents the Hernando County Clerk of Court, the Florida Association of State Troopers, the Fraternal Order of Police, the City of Brooksville, and Sumter County, Florida.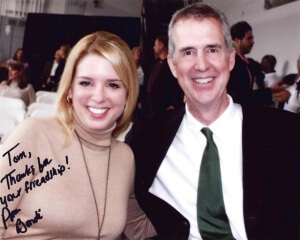 Mr. Hogan has represented business and litigation clients in Florida, Georgia, Louisiana, Texas, Arizona, Illinois, Alabama, California and New York as well as in Thailand, Singapore and Indonesia.  He has appeared with high-profile clients on such nationally televised news programs as Fox News and The Larry King Live Show.  Mr. Hogan is a member of the Hernando County Bar Association, the Florida Bar and the Alabama Bar.
Mr. Hogan has worked closely with local leaders and prominent members of the Florida law community, including Florida Attorney General, Pam Bondi (seen in picture). He founded The Hogan Law Firm, with a unique team of attorneys which includes over 75 years of combined legal experience to provide you the best in legal representation.
Practice Areas
Bar and Court Admissions
Alabama Bar, 1981
Florida Bar, 1982
U.S. District Court for the Middle District of Florida, 1982
U.S. Supreme Court, 1982
Military Court of Appeals, 1982
Education
Cumberland School of Law (J.D., 1981)
University of Florida (B.A., 1976)